NEWBERG, OREGON – A GREAT PLACE TO LIVE
About Newberg Oregon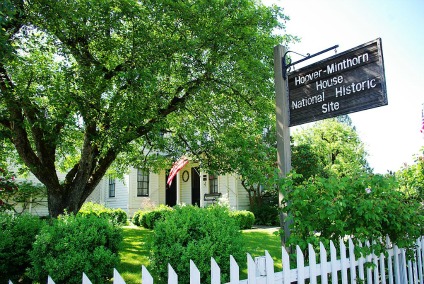 Home to many of the finest vineyards and wineries in the country, Newberg is a growing, vibrant city located in Yamhill County. Located just 25 miles southwest of Portland, it combines all the great things about small town living with all the upscale amenities of a large metropolitan area. It is the home of George Fox University, the gateway to the Oregon Coast, and lies in the heart of Oregon Wine Country.
Newberg, which was named in 1869 by the city's first postmaster, Sebastian Brutscher, after his Bavarian hometown of Neuberg, has a rich history, one heavily influenced by the Friends Church. Quaker William Hobson in the 1870s determined the area's rainfall and average temperature to be good for agricultural activities. He stayed, farmed, and preached, and drew many other Quakers to the area. Together with Dr. Henry Minthorn, the Quakers started Pacific Academy, which is now George Fox University.
In 1885, when he was a boy of about 11, Herbert Hoover moved to Newberg in 1885 to live with his aunt and uncle, the Minthorns, after the death of his parents. He was among the first students to attend his uncle's school, Pacific Academy.
By 1887, Newberg had grown to a population of about 200 and in 1893 was incorporated as a city. Today, it is the second largest city in Yamhill County with a population of close to 23,000. It is surrounded by lush farms, vineyards, and wineries.
Newberg, Oregon – A great place to live!
Local Attractions
Champoeg State Heritage Park – Located on the beautiful Willamette River, Champoeg Park offers abundant history, nature, and recreational opportunities for the whole family.
Chehalem Cultural Center – A place for arts, education, community, and heritage.
99W Outdoor Drive-In Theater – Open in the Spring and throughout the Summer, one of the country's few outdoor drive-in theaters still in operation – and thriving!
Vista Balloon Adventures – Launch in a hot air balloon from Newberg and enjoy the surrounding area in a way you've never seen before and will not soon forget!
Hoover-Minthorn House Museum – The oldest house standing in Newberg, it was built by Jesse Edwards, the founder of Newberg and was home to a young Herbert Hoover and Dr. John Minthorn, one of the pioneers of the city.
Art Elements Gallery – In the heart of downtown Newberg, the Art Elements Gallery offers a broad range of art, workshops, and demonstrations.
Rain Dance Marketplace – A unique marketplace of crafts and artworks located at Rain Dance Ranch just outside of Newberg. Now offers a tasting area featuring its Estate Pinot Noir.
Oregon Dream Ponies – Kids and ponies – is there a more joyful combination? Oregon Dream Ponies provides a venue for the smallest horse lovers to enjoy ponies & learn something, too!
Newberg Area Wine Tours
Recognized around the world for its world-class wines, the Newberg area offers wine enthusiasts an outstanding opportunity to sample wines, purchase new releases, enjoy food and wine pairing events, and have a great time with family and friends – all in extraordinarily beautiful settings that make up Oregon Wine Country. Treat yourself to a self-driving tour of area vineyards and wineries or let someone else to the driving.
Oregon Select Wine Tours
Cellar Door Wine Tours
Newberg AVA Map of Wineries
Annual Events
This is a city that never sits still. Every month of the year, there is something going on in Newberg, including several popular annual events that are not to be missed.
Newberg Old-Fashioned Festival
Willamette Valley Lavender Festival
Spas & Inns
Allison Inn & Spa
Best Western Newberg Inn
Chehalem Ridge Bed & Breakfast
Coffee Places
Caravan Artisan Roasted Coffee
2750 E. 9th Street, Newberg, OR  97132
(503) 538-7365
Coffee Cottage
808 E. Hancock, Newberg, OR  97132
(503) 538-5126
Chapters Books & Coffee
701 E. First St, Newberg, OR 97132
(503) 554-0206
Restaurants & Eateries
The Painted Lady
201 S. College Street, Newberg, OR  97132
(503) 538-3850
Subterra
1505 Portland Road, Newberg, OR  97132
(503) 538-6060
Jory
2525 Allison Lane, Newberg, OR  97132
(503) 554-2526
Chehalem Valley Brewing Co
2515B Portland Rd. Newberg, OR 97132
971-832-8131
Lil' Cooperstown Bar & Grill
705 N. Springbrook Road, Newberg, OR  97132
(503) 538-9405
Weather
Newberg enjoys the temperate weather of the Willamette Valley. With four distinct seasons, you will love the green springs, beautiful summers, colorful falls, and mild winters. Need the current forecast? Check out the weather.
Newberg Schools
Public Schools

Newberg High School
2400 Douglas Avenue
Newberg, Oregon 97132
503-554-4400

Mountain View Middle School
2015 N Emery Drive
Newberg, Oregon 97132
503-554-4500

Chehalem Valley Middle School
403 Foothills Drive
Newberg, Oregon 97132
503-554-4600

Mabel Rush Elementary
1441 Deborah Road
Newberg, Oregon 97132
503-554-4450

Joan Austin Elementary School
2200 N. Center St
Newberg, Oregon 97132
503-554-4550

Ewing Young Elementary School
17600 NE North Valley Road
Newberg, Oregon 97132
503-554-4750

Edwards Elementary School
715 E. 8th Street
Newberg, Oregon 97132
503-554-5050

Antonia Crater Elementary School
203 Foothills Drive
Newberg, Oregon 97132
503-554-4650
Dundee Elementary School
140 SW 5th Street
Dundee, Oregon 97115
503-554-4850
Newberg School District
714 E. 6th Street
Newberg, Oregon 97132
503-554-5000
Private Schools
St. Paul Parochial School
20327 Christie Street
St. Paul, OR 97137
503-633-4622
C.S. Lewis Academy
609 Wynooski
Newberg, Oregon 97132
503-538-2242
Middle & High School
1650 N. College Street
Newberg, Oregon 97132
503-538-0114
Veritas School
401 Mission Drive
Newberg, Oregon 97132
503-538-1962
Colleges & Universities
George Fox University
414 N. Meridian Street
Newberg, Oregon 97132
503-538-8383
Municipal & Business Contacts
City of Newberg
Newberg Chamber of Commerce
Newberg Downtown
Newberg Public Library
Health Care Facilities
Providence Newberg Medical Center
503-537-1555
Newberg Urgent Care
503-537-9600
Utilities & Services
Electric – Portland General Electric
(503) 228-6322
Water – City of Newberg
(503) 537-1205
Natural Gas – Northwest Natural
(800) 422-4012
Refuse – Waste Management
http://www.wmnorthwest.com/newberg/
Telephone – Frontier
http://frontier.com
Television
Comcast – 800-226-2278
Frontier – http://frontier.com
Internet
Frontier – http://frontier.com.
Comcast – http://www.comcast.com.
Several other local providers.
The Newberg real estate market has never been more exciting. Valley Realty Professionals can provide you with a complete range of real estate services. Whether you're looking for your dream home, a second home, or farm, vineyard, or commercial property, we're ready to help!